Pigeon English, Ambassadors Theatre
Wednesday 28th September 2016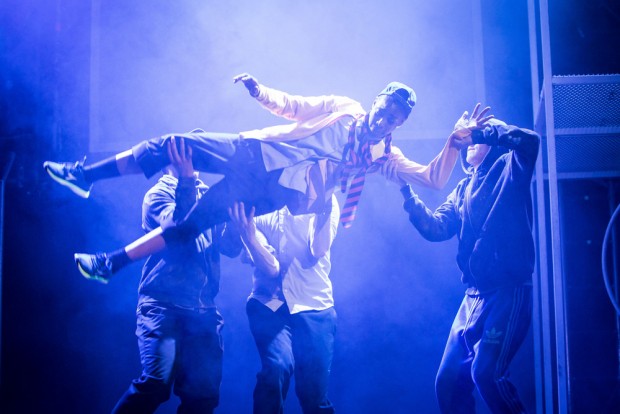 If you like your drama to have energy, even if it is a bit rough around the edges, then the National Youth Theatre must surely be for you. Established in 1956, and thus celebrating its 60th anniversary, the world's first youth theatre now regularly stages a long rep season in the West End with a large cast aged anything from 15 to 25. This autumn, as well as Romeo and Juliet and a revival of Dennis Kelly's DNA, the company are performing Pigeon English, Gbolahan Obisesan's adaptation of Stephen Kelman's 2011 Man Booker prize shortlisted novel, which was first staged by the NYT at the Bristol Old Vic in 2013.
The general theme of youth and violence is aptly exemplified by this story, which is loosely based on the case of Nigerian schoolboy Damilola Taylor, who was only 10 years old when he was killed in Peckham in 2000. Set on the fictional Dell Farm Estate, Pigeon English shows what happens when Harri, a Ghanaian 10-year-old, along with his best friend Dean, attempt to find out — CSI style —who fatally stabbed another local schoolboy. In the book, the story is narrated in Harri's slightly broken English, with occasional philosophical utterances from one of the pigeons he likes so much.
At first, this is a standard schoolkid drama, with mouthy teens exploring the limits of sex, swearing and other boundary-teasing behaviour. Things get more dangerous when Harri's big sister Lydia is attracted to a neighbourhood gang leader, part of the Dell Farm Crew (they have cartoon names like X-Fire, Clipz and Killa). Although much of what his gang does is simply posturing, they have the potential to inflict harm too. At the same time, Harri's Auntie Sonia — who often pops in on his mother — is going out with Julius, a rent-collector and money-lender who not only intimidates his clients, but also beats up Sonia. With Harri's father still in Ghana, the boy is mainly in the company of women and boys, with his natural role model far away, contactable by Skype.
Obisesan's writing is better at conveying the teen banter of the kids than at the sub-rap poetry of the pigeon, who comments and points up the moral of the piece. The theme of poverty and violence is a bit depressing since it is not clear what options these kids have. As so often in the staging of underclass situations, there's a kind of inevitability about the result. These working-class kids are presented as having fun, but without hope, and I think that this does them a disservice. Also, the storytelling is not always as clear as it could be, and the moments of poetry in the text are balanced by some rather banal exchanges.
Anna Niland's production has a climbing frame set, designed by Cecilia Carey, and fields exuberant performances from the large NYT cast. It has been a great idea to choose a young woman, the excellent Seraphina Beh, as Harri so that the character's voice has a suitably child-like timbre. She's onstage for most of the performance and carries the show, being likeable, tender and vulnerable. Felix Mackenzie-Barrow is likewise strong as Dean and Daisy Fairclough similarly impressive as Harri's sister Lydia, who switches accents depending on whether she's at home or with the gang. As for the pigeon, its text is spoken by Never Normal Girl (Charlotte Law), who acts as the narrator. I also liked Shalisha James-Davis as Sonia. Kane Husbands's movement results in some exciting stage pictures, and, on the positive side, the general effect is of an evening that is entertaining and inspiring.
© Aleks Sierz