Pig Girl, Finborough Theatre
Monday 12th January 2015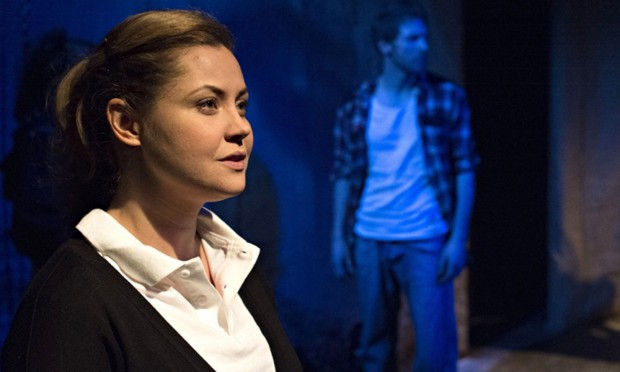 Pain. One of the things that fringe theatre does so well is to make its audiences feel pain. Given that so many fringe venues are more or less unfunded spaces with tiny hot-and-sweaty rooms, the unglamorous environment seems ideally suited to work that explores the experience of painful feelings and shredded nerve ends. Here the heat is emotional as well as physical.
So it is with Colleen Murphy's Pig Girl, which gets its European premiere at this small and sweaty venue, which despite its size manages to punch consistently about its weight. Although this powerful and award-winning play opened in a controversial production at Theatre Network in Edmonton, Canada, in November 2013, it was originally performed as a staged reading during the Finborough's Vibrant festival of new writing in 2012, when its Canadian author was a resident playwright here. Once again, hats off to Neil McPherson, the theatre's artistic director, for his good work in developing the work.
Based loosely on a true story, the play is set on a remote Canadian pig farm in the 1990s, and shows how a sadistic serial Killer tortures an abducted young prostitute. Her name — Dying Woman — betrays her inevitable fate, while on either side of the stage we also see her Sister trying to persuade the local Police Officer that she is a missing person and not just an anonymous junkie. Murphy gives the characters general names to emphasise the idea that this is a story that is much more universal than just one local case. But clearly she does have one horrible case in mind.
In 2007, Robert Pickton, a pig farmer in Port Coquitlam in British Columbia, was convicted of the murder of six women, and is suspected of having killed some 20 more. How was this possible? One reason given for his ability to carry out this killing spree is the fact that many of his victims were native Americans, so it's an indictment of Canadian society's racism. Added to this he chose many of his victims from the margins of society: sex workers and drug addicts. The result: nobody cared about their disappearance.
Outraged by this neglect, Murphy deftly sketches out Killer's viciousness, Dying Woman's desperation, Sister's courage and Police Officer's initial indifference, showing how each character has themselves been traumatised in different ways. The image of a "pig girl" is suggestive of the filth of a whole society, a sty where lost or desperate young women are thrown and left to wallow. The result is a tone poem of voices that tells the story of a ghastly nightmare both sympathetically and emotionally.
Pig Girl is a hard watch: it is a relentless and excruciating account of neglect and pain, with some truly horrible instances of torture that are almost unbearable. At some moments, I simply had to look away. Flashes of imagination alleviate the grim catalogue of horror, yet in the end we learn almost nothing new about exactly why one individual decides to kill, and another doesn't. Okay, so the playwright doesn't have to be a social psychologist, but maybe an audience needs more than pain to feast on. Murphy's writing is passionate and clear, but the play is essentially static and undramatic in its structure.
Still, Helen Donnelly's strong production features committed performances from Kirsten Foster (Dying Woman), Damien Lyne (Killer), Olivia Darnley (Sister) and Joseph Rye (Police Officer). Darnley is particularly impressive as the woman who is determined to find out what happened to her sister. This is a visceral portrayal of sadistic masculinity's love of power — and of the effect of this on women. You stumble out of this show with both horror in your heart and a burning feeling that justice must be done.
© Aleks Sierz