Pass Over, Kiln Theatre
Wednesday 19th February 2020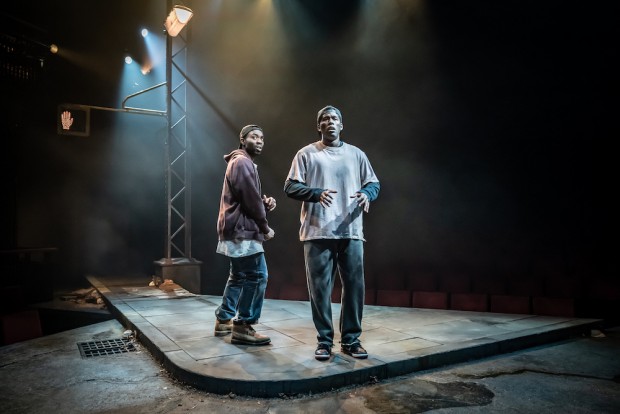 The Black Lives Matter movement is such an important international protest that it is odd how few contemporary plays even mention it. Since the hashtag #BlackLivesMatter has been around since 2013, following the acquittal of George Zimmerman who shot African-American teenager Trayvon Martin in February 2012, there is little excuse. Now, however, New York playwright Antoinette Nwandu's allegorical play about race in America, first staged in 2018 at Chicago's Steppenwolf Theatre (and filmed there by Spike Lee, no less), has come to this Off-West End venue, opening the day after rapper Dave denounced racism at the Brit Awards.
The title is evocative: passing over means dying, but it also brings to mind the Jewish festival of Passover (Exodus from oppression), and this is certainly a symbolic drama, not a naturalistic one. More absurdism than journalism. Two young black men, the angry Moses and his loyal if naïve friend Kitch, hang around a street corner in an anonymous American city. Under an overhead railway, and to the sound of whistling wind, they pass the time in banter, in rituals and in repeating the same kinds of conversations over and over again. They like to scrap. They are poor; they long for something good to eat. And although they dream of moving away from the block, and of the high life — caviar, alcohol and women — they are stuck. Their only interaction is with two white men, Mister and Ossifer.
Mister, who appears dressed in white and carrying a basket covered with a red gingham tablecloth, is presented as a light satire on a jovial old world of tradition. White tradition. Is this stranger a Mormon or a cop? No, he's just passing by, on his way to see his mom, blaming his fallen arches for his painful feet. He should be off, but he's tired so he stays and shares the abundant picnic he carries with the two black men. His speech is peppered with expressions such as "gosh" and "golly gee", while Moses and Kitch use the N-word liberally and insistently and oppressively. With typical self-reflexivity, they even have a discussion about it. By contrast, Ossifer is a cop: brutal harassment is his job. And he does it well. Real well.
The show's publicity stresses the fact that Nwandu's powerful 80-minute drama is inspired by Samuel Beckett's Waiting for Godot. Indeed, his initial stage directions — "A country road. A tree. Evening" — here becomes "A ghetto street. A lamppost. Night". Irish lilts and sallies are substituted with street slang, snatches of pop music lyrics and a mixture of fantasy (reminiscent of rap music videos) and Protestantism (there is a quotation from the book of Exodus as the epigraph in the playtext). But can Moses, in this situation of modern slavery (poverty), really defy Pharaoh's son (Mister) and his army (Ossifer), and lead his people (Kitch) to the promised land? Can these men "fulfill their potential"?
Nwandu's writing subtlely juggles the three symbolic time zones — Bible times, plantation times and contemporary times — and her text sings with an evident joy in language. Moses and Kitch have a routine in which they create wish lists of all the things they desire, and a call-and-response routine in which "yo kill me now" is a greeting, always answered with a coolly arch "bang bang". This contrasts beautifully and strongly with the list of their dead friends, recited by Kitch, which seems horribly long. Maybe endless. To them, the fear of the police can be neutralized by calling officers "po pos", but when power arrives they fall to their knees in dread. The evening is a powerful mixture of male camaraderie, brutality and almost casual defiance.
Despite its absurdist style, Pass Over is a political play whose message is indisputable. Young black American men are constantly and illegally being killed by white men and white cops. Nwandu imagines a typical ghetto street scene in which not only race, but class condemns young men to invisibility — until their deaths hit the headlines. She shows how language and physical demeanour can be a conscious performance, a way of survival in a climate of fear. Of terror. Her parodies of white "superiority" — with its patronizing smirk — are intelligent and, maybe because I'm an old white man, extremely uncomfortable. And her sense that some black men live under the shadow of death and despair is deeply depressing. But I'm a liberal so I would say that, wouldn't I?
This is definitely not only a disturbing play, but a haunting one. Despite, or maybe because of, the fact that it never argues its case, preferring to state it without nuance or balance, it etches its emotions on the mind. Pass Over not only has meta-theatrical elements, but also a central ethical force. Nwandu has created two young black characters who are almost stereotypical losers. Unlike the gangs of television shows such as The Wire, they are not part of a drugs market and they don't learn about Economics at night school. Despite Moses's metaphorical role as a prophet, they are surplus DNA: they won't get a job; they won't be good husbands; they won't be good fathers. They aspire to nothing beyond religious fantasy or the most banal blandishments of consumer capitalism. But, because they are nothing, Nwandu argues, they are everyone: all black lives matter.
Although the play has barely the sketch of a story, it is rich in symbolism rather than in practical tips for resistance, and its atmosphere is frankly and deliberately disconcerting. With the playing space reconfigured into a theatre in the round, Indhu Rubasingham's meticulous production — designed by Robert Jones — brings out the poetry of the text and she is well served by two outstanding performances from Paapa Essiedu (Moses) and Gershwyn Eustache Jnr (Kitch), the one an angry yet imaginative prophet figure, a leader, the other a more uncertain character, a follower. Their dynamic rapport is great. As the two white men, Alexander Eliot exudes a deliberately fake bonhomie (Mister) and a brute aggression (Ossifer). But it's a hard watch — this is the fiercest account of racism on the London stage.
This review first appeared on The Arts Desk