Noises Off, Lyric Hammersmith
Tuesday 2nd July 2019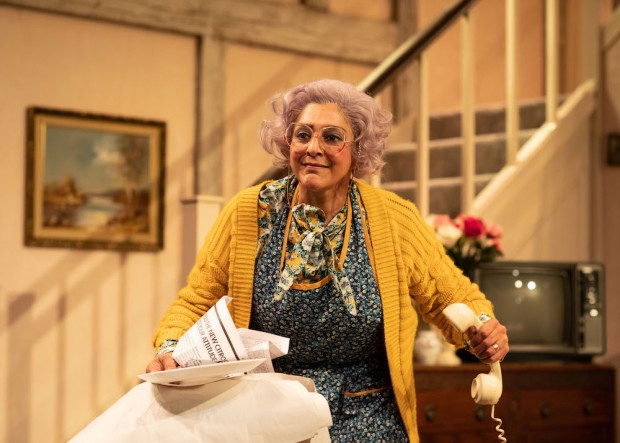 Once upon a time, farce was one of the most popular of genres in postwar British theatre. Those produced by Brian Rix in the 1950s and 1960s at the Whitehall Theatre were almost invariably mega-hits that ran for years and years. With the advent of television and the enormous social changes of the late 1960s these slapstick stereotype-heavy shows were staged less frequently and, in common with other genres, such as country-house murder mysteries, they became susceptible to postmodern deconstruction in the following decades. Chief among these comic tributes to the past is Michael Frayn's masterpiece, Noises Off.
Originally opening at the Lyric Hammersmith in 1982, the play soon transferred to the Savoy in the West End, and ran for almost 2,000 performances, making it a mega-hit in its own right. Subsequent revivals have confirmed its reputation as the meta-king of farces about farce, and this revival celebrates the fact that this warhorse is now almost 40 years old. This time, the star cast includes Meera Syal, Lloyd Owen, Jonathan Cullen and Debra Gillett, and its current venue represents a kind of homecoming for this modern classic.
Noises Off is a play about an accident-prone theatre company putting on a typical sex farce called Nothing On (geddit?). In this play within the play, Roger Tramplemain, an estate agent who is in charge of renting Philip and Flavia Brent's house, has a rendezvous with Vicki, and pretends that the house is his own. This assignation is interrupted first by Mrs Clackett, the cockney housekeeper, who is trying to spend a quiet afternoon watching television and eating sardines, and then by the Brents, who return unexpectedly. External threats include the Inland Revenue, a Sheik who wants to buy the property, as well as an elderly burglar.
What is brilliant is the way that Frayn shows what happens both onstage and offstage. The first act shows a chaotic rehearsal with Dotty, who plays Mrs Clackett, forgetting props, Lloyd the director losing his temper and Selsdon, an older actor with a drink problem, losing his place. Other cast members are more worried about their personal love affairs than about their jobs. In the second act, the stage is turned around so we see the fraught backstage relationships between cast members during a weekday matinee soon after the show's opening. By the third act, the tensions in the cast have intensified to the point that the final performance looks set to be a disaster.
The sexual liaisons between Lloyd and both Brooke, a young actress, and Poppy, the assistant stage manager, fuel much of the confusion, while Garry, the leading man, is dating Dotty, a middle-aged television star and his senior by some years. It doesn't help that Garry is afflicted by bouts of severe jealousy and that Brooke is constantly losing her contact lenses. Another actor, Freddie, has a morbid fear of violence, and he is mothered by Belinda, the company's sensible actress. All of them are looked after by Tim, the overworked stage manager. Confused? You're meant to be!
In Nothing On, the aptly named Dotty plays Mrs Clackett, Garry plays Roger Tramplemain while Brooke is Vicki. Freddie and Belinda are the Brents, Selsdon is the burglar and the Sheikh is a mystery. Frayn's skill as a playwright is not only demonstrated by his ability to create a classic farce, but also to show how the characters of the actors are mirrored in the fictional personalities that they play, or at least try to play, on stage. So Dotty's Mrs Clackett is a joy to watch, while Garry's jealous nature affects his acting as well as his peace of mind. Selsdon's drinking gives his burglar an anarchic wildness.
Of course, the worldview of all farce, even farce about farce, is that if something can go wrong, it will go wrong — and then some. In the play, Freddie's constant questioning of his motivation reveals the randomness of daily life: when you're bewildered, everything is a surprise. Lloyd's patient explanations of the reasons for the actions of the characters are increasingly bizarre. But the greatest disruption comes from desire: sex bursts the constraints of normality. And Frayn's inventive wordplay proves that reality is fragile, and the absurd is always waiting in the wings. The play's feeling of escalating craziness is so effective that when, on the press night, there was a genuine problem with the onstage lights, everyone thought it was a meta-theatrical joke. (It wasn't.) But it was an unexpected example of the play that goes wrong.
As directed by Jeremy Herrin, on designer Max Jones's meticulously constructed set, this revival has a brilliant ensemble cast. Syal is a splendidly manic Dotty, Gillett a wonderfully scatty Belinda and Cullen a staggeringly vulnerable Freddie. Lloyd Owen's Lloyd is beautifully arrogant, Amy Morgan's Brooke has a nice prima-donna pout and Daniel Rigby's Garry is full of fury: when he falls down the stairs the audience explodes. Equally vivid are Lois Chimimba's Poppy, Enyi Okoronkwo's Tim and Simon Rouse's sly but shaky Selsdon. Amid all the dropping trousers, the simple joys of laughter suggest that farce is not just for today, but for all time.
This review first appeared on The Theatre Times