Men Should Weep, National Theatre
Wednesday 17th November 2010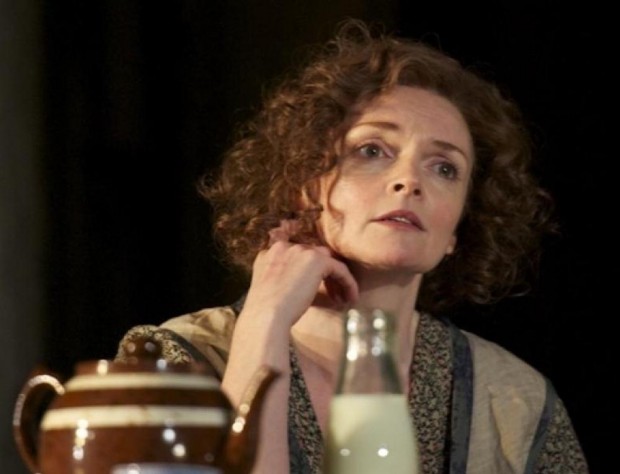 One of the holy grails of modern British theatre is the working-class play. Scottish playwright Ena Lamont Stewart's 1947 drama, Men Should Weep, at first sight seems to be the genuine article. It is set in the Glasgow tenement slums of the 1930s, and the piece's middle-class author, at least according to this production's programme, was brought up in one of the city's poorest neighbourhoods. So it should have the odour of real life.
In a poorly furnished room, Maggie Morrison is bringing up a bunch of children while her husband John tries ineffectually to get a job — it is, after all, the Great Depression. In this environment, troubles pile up on troubles, which attract even more trouble. Maggie has to cope with her ailing mother-in-law, a spinsterly sister, an older daughter who is set to leave home, a young daughter who needs constant attention, a baby boy who is sick with TB, a son who has a feisty wife, and a whole bunch of gossiping neighbours. Yes, this is hell.
But Lamont Stewart is remarkably unsentimental about giving us her woman's view of the subject, and she gracefully mixes humour with horror. And boy do we need a laugh. In this poverty-stricken abode, privacy is impossible, gossip corrosive and quarrels soon escalate into violence. Drink is the main soporific, and selling sexual favours is the surest way to riches for the younger women in the family.
From the female playwright's point of view, the men are variously portrayed as either ineffectual, or vicious wife-beaters. Fair enough. Poverty is no breeding ground for angels, or heroes. But this does put the emphasis on the women, and — apart from Maggie herself — most of these seem no better than the men. Maternal ties bind them to their kids, and a kind of mutely resigned stoicism is their best survival tool. Either that, or an angry lashing out at those nearest and dearest.
What's surprising about this play, whose fans usually praise it for being realistic and political in its representation of real working-class women, is the almost complete absence of politics. Of course, there's the odd bad-tempered remark about men hanging out in libraries, or talking politics, but such efforts are usually derided. It feels like a council of despair.
Whether or not this is an accurate account of Glasgow life in the 1930s I am unable to say. But, compared to the superior work of Sean O'Casey, it seems to lack both dramatic nuance and the odour of reality. Lamont Stewart was a minister's daughter, and her view of the poor seems to me to be fatally tainted by this heritage: I kept feeling that she is looking in on the lives of the poor, from the outside, rather than being part of their experience.
Nor was I convinced in the least by Josie Rourke's lavish production. For my money, this is a play that demands authenticity of casting and a "poor theatre" style that emphasises the relationships between the characters on stage and makes do with minimal props. Instead, what do we have here? A colossal set which recreates an entire tenement building, silly wigs and melodramatic acting.
In a building that is meant to be so cold and damp that the medical authorities refuse to allow the TB-ridden baby boy to return to his home, the actors move about the set as if the central heating was on full. Worse than this, only in the second half do they act to each other in anything like a convincing way. But by then it was too late — I'd stopped caring. As well as Rourke, the guilty crew includes designer Bunny Christie, actors Sharon Small (Maggie), Anne Downie (grandma), Sarah MacRae as the older daughter and Morven Christie as the older son's wife. They do their best, but if this is meant to be a picture of real people in a real slum then the evening is an utter failure.
© Aleks Sierz