Man and Superman, National Theatre
Wednesday 4th March 2015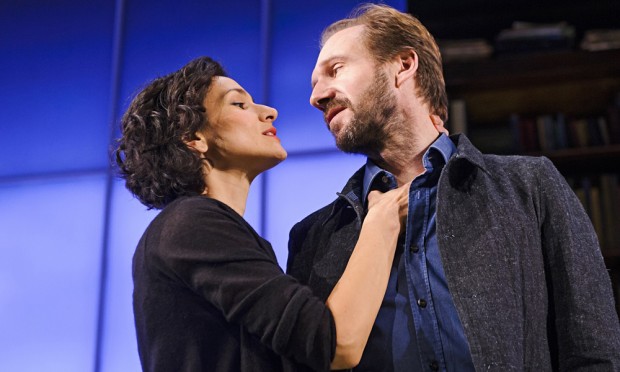 Some plays are just plain crazy. They're too big and too bold; they're too long; they shouldn't work; they could turn audiences mad. Just think of Eugene O'Neill's Mourning Becomes Electra or George Bernard Shaw's Back to Methuselah — and weep. Weep a lot. Weep hot tears of frustration. Then there is Shaw's Man and Superman. For years, this hugely long 1903 play has been played in a shortened version — give the audience a break! But, just as there are plays that really shouldn't work, there are also directors who specialise in making the impossible possible.
Simon Godwin is one of these. Here he takes Shaw's Man and Superman, including the long and usually omitted Don Juan in Hell sequence, casts it brilliantly and gives it a modern-dress production that, while unappealing to look at, whizzes along at a cracking pace. The story is a typically Shavian riff on the Don Juan myth. John Tanner — played by Ralph Fiennes — is an egotistical anarchist, often locked in conflict with the exceedingly conventional Roebuck Ramsden. When Tanner and Ramsden are thrown together as guardians of the young Ann Whitefield (Indira Varma), the sparks between all of them begin to fly. John and Ann have known each other since childhood, and they have an easy banter that contrasts with the more artificial nervousness of Ann's other suitor, the gauche Octavius Robinson. John's advanced ideas — he defends Octavius's sister Violet when she announces that she's pregnant — might have been shocking to Edwardians, but they seem humane and sensible today.
Then what begins as an Edwardian drawing room comedy, with a dash of rom-com thrown in, suddenly bursts out of the staid conventions of its genre and becomes a road movie. The cast begins an adventure involving car chases across southern England, and then capture by brigands in Spain. It is here that, when Tanner falls asleep, he dreams the Don Juan in Hell sequence in which Shaw makes good on his promise that this drama is "a comedy and a philosophy". As Tanner turns into Mozart and Molière's arch-seducer (in his dreams!) Don Giovanni, he argues ideas with Lucifer and Ana, one of his seduced victims.
Despite Godwin's dynamic staging, Christopher Oram's design and Fiennes's engaging performance, the debates in hell are an infernal torture for most audiences. Loquaciousness is not the most attractive feature of playwriting and here Shaw is wordy to the point of violence. I swear there were moments when I thought I'd have to start gnawing the backs of the seats in front of me. Even Shakespeare has never felt so aggressively boring or so wantonly tedious. Likewise, there's something deeply crazy about Shaw's ideas about women and their mission in life: to father a new Superman, to embody the life force. And there are even jokes about how long it takes Shaw to make all his points!
Of course, John finally succumbs to Ann's will, and her love. So all of his bluster about his moral imperative to himself, to his creative development, and all his jokes about the dismal fate of marriage, he ends up married (not a spoiler: we can see where the plot is going from the off — that's what genre means!). Still, along the way there is humour in plentiful supply: "an Englishman thinks he is moral when he is merely uncomfortable" is a typical line. There is something very weird about a play in which you can agree with some of the playwright's sentiments and then feel appalled at some of his other notions. Although Godwin has chosen to dress this version up in modern clothing, there's something irreducibly old-fashioned about a lot of the piece's ideas. There are some good exchanges: my favourite being "I'm a brigand," says the bandit, "I live by robbing the rich." "I'm a gentleman," counters Tanner, "I live by robbing the poor." But there's also dubious, quasi-fascistic stuff about the life force and women's duties. You can't help but sense that Shaw really doesn't understand women.
And then there's Fiennes. He takes on the enormous challenge of this huge role with a lightness of touch and a commitment to clarity that is great. In the drawing room scenes he is deft, adroit. In his comic conversations with his chauffeur, he is charming; in his chats with Ann is sincere and passionate. The play needs a restless physical presence, a large central performance — and it gets it from Fiennes. The rest of cast, perhaps inevitably, have less of a look in. But I will remember Indira Varma for her good humour and glamour as Ann, and Tim McMullan for his comic romanticism as the Spanish brigand. At the end of three hours and 40 minutes, you stagger out of the theatre mighty glad you've survived this torrential outpouring of words. Was I the only one to vow never to watch this play again?
© Aleks Sierz