Juno and the Paycock, National Theatre
Wednesday 16th November 2011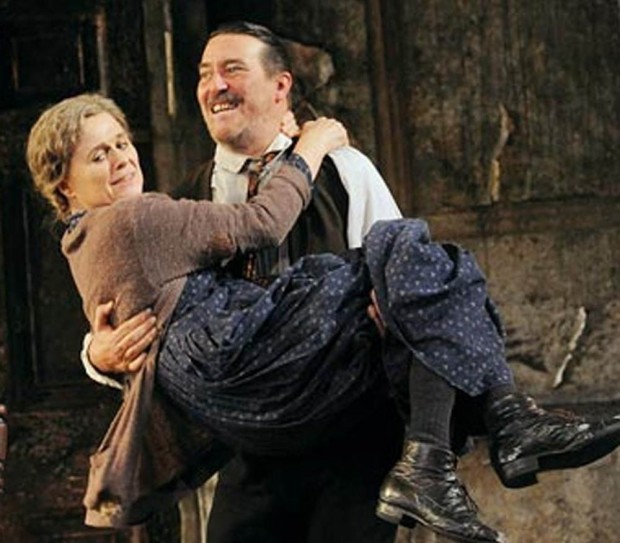 How should theatre directors treat the text? Two revivals at two of our top theatres illustrate two different styles of directing. One is the English method of paying acute attention to the text, exemplified by Howard Davies's production of Sean O'Casey's Juno and the Paycock at the National Theatre, and the other is the Continental method of director's theatre, instanced by Thomas Ostermeier's version of Hamlet at the Barbican.
Set in 1922 Dublin during the civil war between the Free-Staters and the Die-hard Republicans, O'Casey's tragicomedy tells the story of the slow collapse of the poverty-stricken Boyle family as it struggles to survive in a tenement. Held together by Mrs Juno Boyle, the family is nominally led by her husband, who calls himself Captain Boyle simply because he once worked on a ship that got as far as Liverpool.
Now more concerned with drinking than with working, the Captain spends much of his time with the equally feckless Joxer, while his children — Johnny (wounded in the struggle for Irish independence) and Mary (trying to marry her way out of poverty) — seem determined but prove unable to leave their roots behind. Their best chance comes when a surprise legacy provides the opportunities that each family member has longed for. Being a tragedy, it is no surprise that their hopes are dashed.
When I say that Davies concentrates on the text, I don't mean that he ignores the setting. In fact, at first the most striking thing about this production is Bob Crowley's set design and James Farncombe's lighting. The tenement room in which the drama takes place is a huge, palatial space which serves as a visual reminder that the Dublin slums of the 1920s had a history: when the Dublin parliament was dissolved in 1801, the rich left, house prices plummeted and their mansions were bought up by landlords who turned them into cheap dwellings. So the high ceiling, pealing wallpaper and divided room is a perfect reminder of this urban and national history, telling its own story about the exploitation and repression of the poor. At the same time, the lighting of the play is evocative, natural and beautiful, indicating a contrast between the loveliness of nature and the ugliness of an impoverished society.
The play's politics express O'Casey's hatred for all forms of ideology. Every different shade of Irish republicanism gets confronted with reality, and reality always wins. Juno and the Paycock is a testament to humanism, and its emotional punch comes from the fact that truth always hurts, and hurt forces you to reassess your beliefs. Davies directs with the cool authority of a master. The stage picture is always finely balanced and the cast — led by Ciaran Hinds as the Captain and Sinead Cusack as Juno — are never less than convincing, even if they really quite take flight. Nevertheless, there is plenty of feeling in this classic.
© Aleks Sierz