Gruesome Playground Injuries, Gate Theatre
Thursday 24th January 2013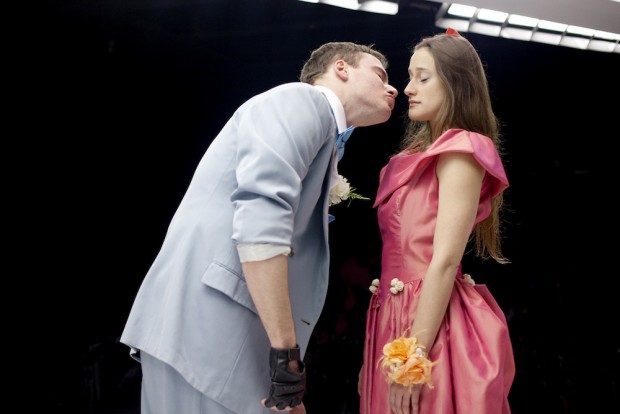 American playwright Rajiv Joseph is a Pulitzer Prize finalist, but this is the first time his work has been seen in the UK so well done Gate Theatre, a small but crucial part of the fringe theatre scene. Having teamed up with National Theatre Studio, they are staging Gruesome Playground Injuries, first seen in New York in 2011. Directed by Justin Audibert, who is this year's recipient of the Leverhulme Bursary for Emerging Directors, this powerful two-hander recounts an unusual love story.
At the start, Doug and Kayleen meet at school after he has ridden his bike off the school roof in a crazy imitation of daredevil biker Evel Knievel. His head has been injured. But she is also unwell, with mental distress matching his physical pains: she complains about vomiting. They are both eight years old. The play then charts their perverse relationship, jumping backwards and forwards in time.
Doug is constantly injuring himself; he is self-destructive. But then so is Kayleen; she cuts herself. And worse. And although they are drawn to each other, they spend most of their lives apart, usually meeting up only after Doug has had another accident. He believes that she has magical healing powers. She wants to feel useful and needed.
It has to be said that Gruesome Playground Injuries lives up to its name. The details of Doug's accidents are excruciating, and Kayleen's self-harming is depressingly sad. Overall, Joseph's writing is a fascinating mix of explicit detail and dark humour, and the text is economical, observant and perceptive. It's a delight to watch, and an equal delight to read.
Working with designer Lily Arnold, Audibert has created a clinically white environment, a traverse box that divides the Gate at an angle, with audience members on both sides. Along the clean walls are shelves with costumes and props. Between scenes, Mariah Gale and Felix Scott change clothes in full view while ambient sounds, designed by Isobel Waller-Bridge, create a pause between shocks. And sometimes the darkness creeps up on them, and on us — it's that kind of show.
Gale and Scott have a great rapport, and her character's frustrated and troubled passion neatly contrasts with his louder and more reckless nature. At 80 minutes, it's a rather slight play, but Audibert and his actors make it a fascinating examination of neediness and despair. Both Joseph and Audibert are names to watch.
© Aleks Sierz