East Is East, Trafalgar Studios
Wednesday 15th October 2014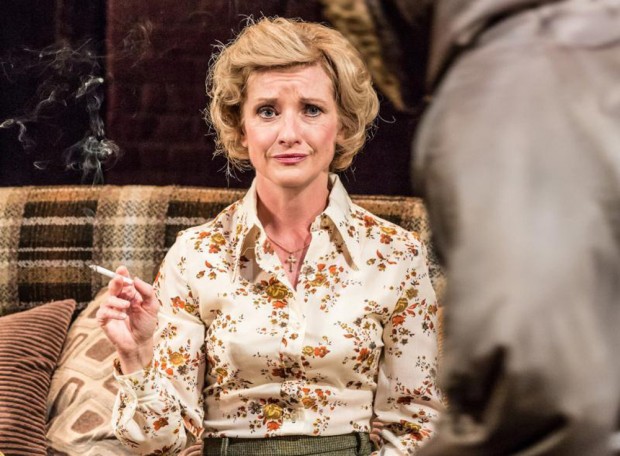 When it first opened in October 1996, Ayub Khan Din's East Is East was hyped as the best Asian play since, well, ever. And audiences flocked to see this 1970s migrant story both in Birmingham, where it opened, and at the Royal Court, which along with Tamasha was a co-producer. Three years later, a film version — directed by Damien O'Donnell — was equally popular, suggesting that Brit film could be as bright as the best of Brit drama. Now the play returns to the West End with a cast led by Jane Horrocks and the playwright himself.
Khan Din plays George "Genghis" Khan, a Salford chip-shop owner who settled in England in the late 1930s and then married local white girl Ella (Horrocks) just after the war. With a first wife still in Pakistan, George has all the traditional immigrant's need to cling to old values. A devout Muslim, with a nostalgia for the home country, his mix of bluster and bullying results in sending one of his teenage sons to be circumcised — and then trying to force two other sons into arranged marriages.
The play charmingly, and occasionally hilariously, shows how the couple's seven kids cope with their dual Pakistani-Mancunian heritage. In various ways they are torn between loyalty to their distant roots and attraction to the host society. The eldest has already left home to become a hairdresser in Eccles, another is a Muslim, a third is a hippie art student. What's beautifully observed are the arguments not only between the parents, but also those between the children.
Each asserts their own identity in a different way; each has to cross a no man's land between being Pakistani and being British; each has to redefine their relationship with their parents. While Khan Din's sympathies are mainly with youth, he also puts the older generation into a political context. It's 1970 and East and West Pakistan are about to fight the Bangladesh Liberation War. This threat to George and his generation's Muslim identity means that he is even more tyrannical at home.
By contrast, the character of Ella, along with that of her friend Auntie Annie, represent an affectionate picture of northern womanhood. These are strong, hard-working, gobby women for whom "bastard" and "get" are terms of endearment. Unlike some of the lazy males, they graft and they endure. But they are also victims. Ella is unable to stand up to George, who doesn't respect her opinions anyway. Although the kids realise that this is a marriage based on love, they also want to change the domestic balance of power.
Crucial to the symbolism of the play is young Sajit, a teen with behavioural problems, who refuses to take off his parka even when he goes to bed. He smells, he hides in the coal shed and he has to cut an invisible string with imaginary scissors every time he approaches a corner. This sympathetic picture of a troubled boy is echoed in Khan Din's portrait of George the patriarch. He argues that even George deserves some understanding, although this plea for tolerance gets stretched when this bully beats up his wife or smacks his kids.
East Is East tackles big issues — immigration, religious belief, political fanaticism, national identity — in a brilliantly comic way, with Khan Din allowing his vividly drawn characters to articulate their mixed feelings of love and hate in an appealingly rough and ready way. If Sam Yates's production is a bit too sunny for my liking, and feels terribly cramped on a small and cluttered set, designed by Tom Scutt, it's hard to complain about the performances. Horrocks is marvellous as the gobby, chain-smoking Ella, and manages to suggest great personal dignity even in her humiliation; if she is a timid mouse to Khan Din's overpowering elephant, the playwright and actor adds nuance to his characterisation, bringing out George's sadness. The rest of the large cast provide good support in what is an enjoyable, if not exactly revelatory, revival.
This review first appeared on The Arts Desk