Doktor Glas, Wyndham's Theatre
Thursday 18th April 2013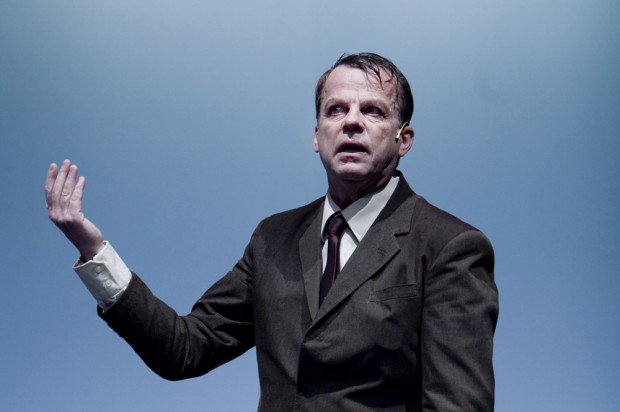 Scandi thrillers have a lot to answer for. Ever since the small-screen success of the Swedish Wallander series, based on the books by Henning Mankell, there has been a host of other must-sees — including the brilliant Borgen — plus British imitations such as Kenneth Branagh's Wallander. Not to mention various outings of The Killing and its local progeny such as Broadchurch. Now the Swedish actor who best embodied Wallander makes his West End debut in this Swedish-language drama. So, welcome to London Krister Hendriksson. He stars as Doktor Tyko Glas in this stage adaptation of Hjalmar Söderberg's 1905 novel, which tells the tale of a Stockholm physician who falls in love with Helga, the young wife of an aged clergyman, Pastor Gregorious. When she tells him that she loathes her husband, he decides to help her by getting rid of him. But if the path of infatuation rarely runs smooth, nor does the urge to kill.
Söderberg's novel, adapted here by Allan Edwall, is the study of a lonely man's mind. Written in the form of a diary, it is a modernist classic which is little known in the English-speaking world. Yet, given the loneliness of the protagonist, the story is ideally suited for a one-man monologue. It is a study of subjective feeling, of unrequited love and fearsome guilt, that reminds me of both Edgar Allan Poe and Dostoyevsky.
Glas thinks he is in love with Helga, but she already has a lover, one Klas Recken. So the doctor's fantasies of killing her husband are irrational — they won't actually help him win her love. She simply wants him to ask her husband to leave her alone at night; she doesn't see her physician as her lover. Yet in Glas's interior world, desire multiplies unchecked by reality, and he begins to hatch his murderous plan. But is it morally right to kill another human being?
When Hendriksson says the word "morality" it sounds like a howl from the soul. His character's contempt for ordinary life and normal morals is palpable. In fact, the whole performance is outstanding, detailed, engaging and a fine mix of direct address to the audience and partially acted out scenes. He manages to make the dream sequences almost hallucinatory in their vivid power, and when he dances with a chair held over his head, you can see how his character manages to shake off guilt — if only for a few minutes. In his brown suit, and on a stylish set beautifully designed by Peder Bjurman, Hendriksson — who also co-directs along with Bjurman — dominates the stage space, clearly enjoying himself as he acts out the collapse of Glas's febrile mind. Helped by a mic, which allows for a thrilling intimacy, Hendriksson whispers, recounts and occasionally roars out the monologue. Moments of merriment ensure that this is no clichéd account of Scandinavian gloom. When the actor conjures up Pastor Gregorious, he turns into the older man, bent double, coughing and garrulous.
With its brilliant use of light effects, moody cello and Hendriksson's enchanting stage presence, this is a revelatory piece of theatre, elegant, beautiful to look at, fascinating to watch. With clear surtitles and a story that runs quickly along like a psychologically bruised troll, this is a highly sophisticated staging of a story that deserves to be better known. It is a short but highly memorable evening.
This review first appeared on The Arts Desk