DNA, Rose Theatre
Monday 6th February 2012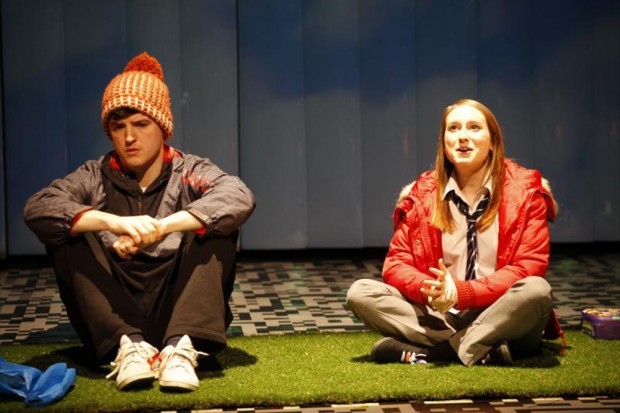 Dennis Kelly is one of a new breed of playwright. Whereas, in the past, most young theatre writers attached themselves to one state-subsidized director or one state-subsidized theatre, the situation today is much more fluid. Now, most writers cross easily between theatres, genres and art forms (typically writing for radio, television and film, as well as theatre). Kelly exemplifies this flexibility.
Before his huge West End success with the RSC musical Matilda the Musical, Kelly's most popular play was DNA, first performed at the National Theatre Connections youth theatre festival in 2007. Soon after, it became a GCSE core set-text and is therefore studied by hundreds of thousands of students every year. Now it has been revived by Hull Truck, and is currently at the Rose Theatre, Kingston, as part of a national tour that lasts until 23 May.
The story is the tale of a perfect crime. A group of ordinary schoolkids bully one of their number and this leads to his death. They panic until Phil, who has a real talent for organisation, suggests a plan to shift the blame. Based on our awareness of how forensic science has improved, it involves a fiendishly clever use of DNA.
Kelly recounts the events of this thriller in a fascinatingly oblique and indirect way. The result is both a story about story-telling and an account of peer pressure, a longing for connection, and the corrosive effects of guilt. The writing is impressively taut and constantly surprising, with the themes of death, sex, and the relationship between the individual and the group emerging from the distinctive characters of the kids.
This occasionally dark, but thoroughly enjoyable Hull Truck touring production is directed and designed by Anthony Banks, associate director of the National Theatre Discover programme. It is very much an ensemble piece, but special mention has to be made of Leah Brotherhead's irrepressibly chatty Leah, James Alexandrou's taciturn Phil, Tom Clegg's frightened Danny and Elexi Walker's feisty Cathy. But all of the cast — George Brockbanks, Emily Butterfield, Daniel Francis-Swaby and Rhys Jennings — are believable. With its cinematic music and atmospheric projections this is an remarkably enthralling and creepy evening that appeals to our sense of ethics as well as to our fears about teenage misbehaviour.
© Aleks Sierz