Big Guns, The Yard Theatre
Monday 27th March 2017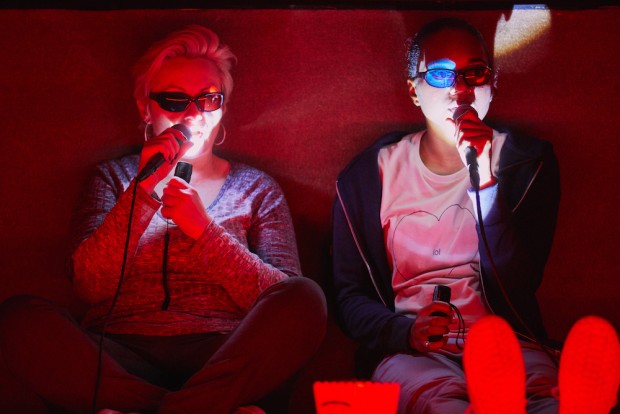 There are many powerful metaphors for our way of life: a casino economy, the society of the spectacle, a modern Babylon. But there is plenty of room for another one, something strong, something memorable. Young playwright Nina Segal has come up with a good way of encapsulating the current climate and culture of fear: in her second play, Big Guns, she describes the shady and menacing figure of The Man with the Gun. A potent symbol of dreadful violence. For all of its 70 minutes of running time, this two-hander fearlessly examines our digital age, and the emotions of anxiety that seem to infect our every transaction, both online and offline.
Characterized by a controlled but almost insatiable ferocity, Big Guns is composed of 16 short scenes that travel through our clickbait culture to reveal the violence, and the paranoia about violence, at the heart of contemporary society. It is a play that oozes contemporaneity from every pore. So two voices, One (Jessye Romeo) and Two (Debra Baker), talk about the familiar terrain of our experiences: how time feels like its running out, how there is always a moment before an violent act occurs when you know it will happen, how you might find someone you don't know's diary on a bus, how you might meet someone you want to have sex with, how people whose lives you can see on the internet might exert a fascination over you, how YouTube is a source of endless voyeurism.
This is a play about dark nights spent in front of screens, watching make-up tutorials, glancing at porn, coming across hideous violence. The person who does this, and who might leave dozens of ugly suggestions in the comments box of a particularly annoying video, is — argues Segal — us. She doesn't mean this literally, but you can see her point. We are not outside our culture, we are all part of it. Part of its lies, part of its fears, part of its violence. Because watching the whole show there is always The Man with the Gun, the guy who will do something unspeakable with any instrument to hand. In the week after the Westminster attacks, this image of a life lived in the shadow of acts of random violence feels exactly right.
Segal's dialogues are short and snappy, reminiscent at various points of Forced Entertainment, Sarah Kane, Martin Crimp and Caryl Churchill, yet retaining their own individual tang. Her poetic cadences have a street style that evokes the urban smells of burning rubber, smoldering cots and the taste of old people's hair. At times the words convey the slightly metallic scent of an overheating computer screen; at other moments there is a distinct feeling of the clammy sweat of fear. Violence seems to lurk in assorted objects found in street gutters, and in anything you might find in laptopland.
Added to this, the slightly musty smell of The Yard Theatre gives Dan Hutton's outstanding production a real sense of atmosphere. Designer Rosie Elnile has created a black bunker in which One and Two hunker down, surrounded by buckets of popcorn, soft-drink cartons and with their three-D glasses. Occasionally a splash of pink paint spills onto the black; otherwise the whole scene is bathed in a bright red light that suggests a perpetual state of emergency (call the ambulance!), and a sense of deepest night. Kieran Lucas's doomy ambient music provides a good background to the pointed conversations as Baker and Romeo, using microphones which occasionally distort or fuzz, chat together, declaim nostalgically how they'd like to get "back to the long-before" and banter about the comic side of horror.
It is a simple production, with no video, few sound effects, few frills. Just the actors and the words. In among the quick clicks as Big Guns increases its bounce rate are mentions of IKEA, celebrity vagina shots, live cams, the Guardian Weekend Style magazine, school trips to the British Museum, stories about bloggers and about ideal couples. Gradually, Segal exposes the fragility of our sense of security in the home, while at the same time — in a bravura passage of powerful writing — she argues that we all "need" news and images of crime and atrocity in order to valorize what we have in life. This is bold, well-focused and powerful new writing. It is fresh and it is young. It is urgent and strong. It is haunting. Only one question: why isn't it being staged at the Royal Court?
© Aleks Sierz
Afterword 
On the night I went, there was a fire drill immediately after the performance finished, which added a certain extra frisson of emergency to a thrilling evening.