Beasts and Beauties, Hampstead Theatre
Wednesday 15th December 2010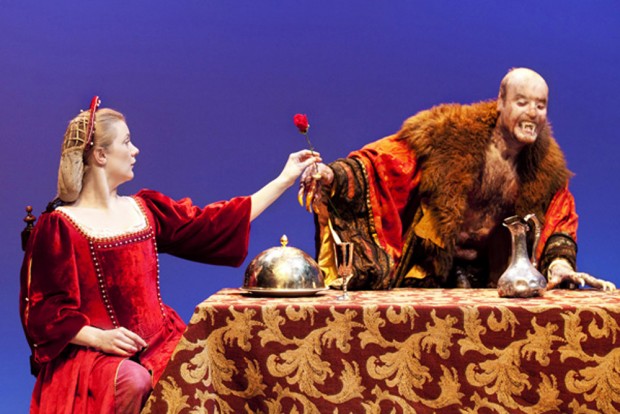 Once upon a time there was a free spirit called Tim, who fell in love with olde folk tales and created little shows all about spells and wonders, and peopled them with princes and princesses, farmers and animals. When he was more grown up, he formed a gang with another free spirit and then with a lady known as the Poet Laureate, who came from a cold, snow-covered country in the North. Then the three of them created a bigger show and staged it in a city called Bristol in the West of England several years ago. Then finally they brought this show, which had grown and grown, to the chief city of the kingdom.
The result is that Beasts and Beauties, a collection of stories by the Brothers Grimm, written by Carol Ann Duffy, dramatised by Tim Supple and Melly Still, and directed by Still, is now at the Hampstead Theatre and destined if not exactly to live happily ever after, at least to delight young and old every Christmas from here to whenever. The stories are a handful of classic tales such as Bluebeard, Beauty and the Beast, The Emperor's New Clothes and The Juniper Tree, with another couple of fillers.
Although the programme is full of quotations from scholars such as Bruno Bettelheim and Marina Warner, who seek to explain the power of these folk tales, this cerebral operation is less interesting than the sheer experience of living through the telling of each story. Here, you can feel the guilt and terror of Bluebeard's wife, recoil at the Beast's bestial acts, laugh at the solemnity of the mighty or the silliness of a nose that turns into a string of black pudding, then suffer the shock of sudden poverty or rage at nature's storms.
Grimms' fairy tales have a firm moral basis, but they include a lot of wild actions that are scarcely models of good behaviour: parents lash out at kids, cows run wild and dogs get kicked. There is murder, robbery and mayhem. Followed by the pain of loss, and often coupled with a love of justice — the most powerful emotion of all. Everyone gets their just desserts. And the tales have happy endings, with the good rewarded and the bad punished. As that writer of children's stories Oscar Wilde once wrote: "The good ended happily, and the bad unhappily. That is what fiction means."
In this production, the only tale with an acute contemporary relevance is The Emperor's New Clothes, which resonates with references to today's celebrity culture and its merciless fawning on the rich and famous. Here the powerful appear as airheads all colluding in a fashionable pretence, their desire to be deluded and to appear the same as everyone else depending on the gullibility of the general public. While hilariously avoiding full-frontal nudity, in this version even the cheats work hard at their deceptions, which says something about life in Britain today.
In general, this is a happily rough-and-ready production, with occasional moments of visual magic as in The Juniper Tree (with Rhiannon Harper-Rafferty), and features a lot of loud, foot-stomping acting, direct narration to the audience, plus delightful pink pigs, mooing cows and plenty of mime. There are memorable growling beasts and trembling rose bushes. Under Still's direction, it's a very visceral show, sensuous and playful, with a couple of songs and many noisy percussive effects. At its best, it glories in revolting carnality. There's cannibalism and even a goat that shits gold.
Duffy's text is muscular, knowing, and with plenty of nods to the German originals and to current feminist sensibilities. I was less taken by the idea that the cast was a group of strolling players who fill every scene change with superfluous stage business, and I could have done without the audience participation. But others might revel in these details. As an evening, it's fast, it's fun and most of the kids in the audience seem to have had a great time.
This review first appeared on The Arts Desk