Andersen's English, Hampstead Theatre
Thursday 8th April 2010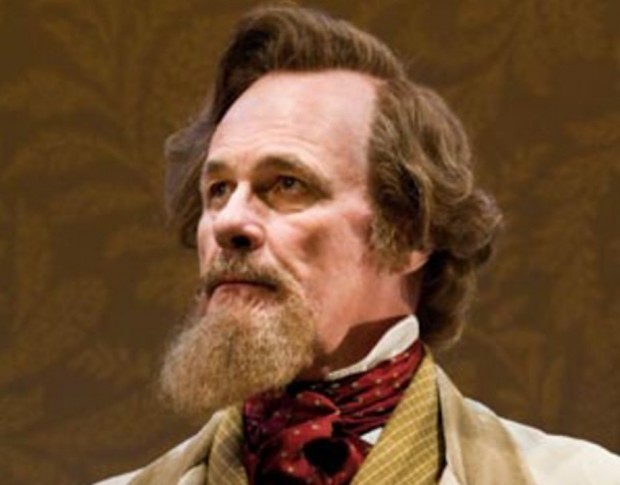 Charles Dickens is not just a Victorian author, he is also a symbol of Englishness. Of a particularly ample Victorian kind of national identity, full of fancy fun, storytelling and eccentricity. In this new play, Andersen's English, Sebastian Barry evokes the world of the novelist's household, with its celebratory feasting, its music-making and its picnics and expeditions. But behind the façade of flowering family life, there is a worm in the bud: Dickens's marriage is falling apart.
Taking a little-known incident, the two-week visit of the Danish writer Hans Christian Andersen in 1857, Barry sketches out Dickens's failing marriage to Catherine, his wife's rivalry with her own sister Georgie, plus the instinctive kinship between Dickens and Andersen, two men who constantly mined their childhood experiences for their adult careers.
But Andersen's poor use of English, which provides the title of the play, meant that the two men could barely communicate, so Barry focuses more on the theme of love: Andersen's adoration of Dickens, Georgie's passionate devotion to him, and Catherine's terrible ordeal as she is banished from her home. Interesting as all this is, it is also quite slender, and the show needs the inclusion of Aggie, an Irish maid, for its sporadic bursts of genuine life.
Max Stafford-Clark's Out of Joint production has saddled itself with Lucy Osborne's ugly set, an ungainly clutter which allows little room for free movement, and, worse, there is little sense of ensemble playing by the actors. As Dickens, David Rintoul is splendidly flamboyant, but he is often doing just a solo turn, while the decision to cast a black actor, Danny Sapani, as the gawky Andersen underlines his alienation as a foreigner.
As Catherine and Georgie, Niamh Cusack and Kathryn O'Reilly struggle at times to convince us that they are sisters, but Lisa Kerr is excellent as Aggie, and solid support comes from Alastair Mavor and Lorna Stuart as a couple of Dickens's many children. Still, the overall impression is that this show is a lot less than the sum of its parts.
© Aleks Sierz