4.48 Psychosis, Young Vic
Thursday 23rd July 2009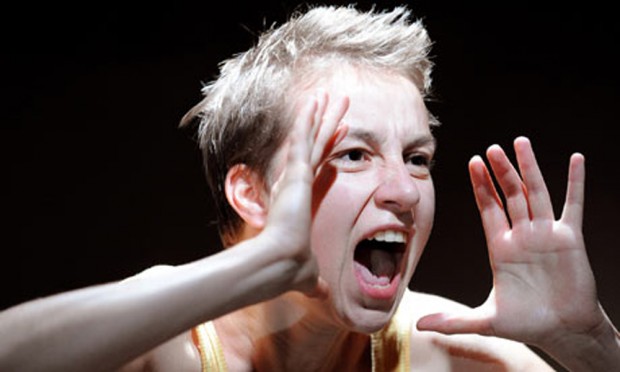 Playwright Sarah Kane's 4.48 Psychosis is not so much a play as a legend. When it was first staged in 2000, some 18 months after her suicide at the age of 28, it split critical opinion: some dismissed it as self-indulgent twaddle, some called it a thinly disguised suicide note, and some praised its perfect marriage of form and content. Now, more than 10 years after Kane's death, how does her final play shape up?
Well, the first thing to say is that it hasn't aged. 4.48 Psychosis still feels immediate, intimate and raw — if anything, the onward march of our confessional culture has made it feel even more contemporary. For as well as being a powerful account of a mind struggling with mental collapse, it is also a text that is often solipsistic, occasionally juvenile and sometimes a bit narcissistic. It is also one of the most challenging and exciting plays of our time.
The key is its title and its form. Psychosis means a mental collapse during which the afflicted person can barely distinguish where and when reality ends, and madness begins. Boundaries dissolve; distinctions collapse. But although Kane did indeed suffer from mental distress, and sought psychiatric help, this is a work of imaginative fiction rather than a straight autobiography: that gives it its interest, relevance and strength.
The 4.48 of the title refers to a time in the dead of night when, says Kane, the sufferer paradoxically experiences a clarity — despite the surrounding darkness. And this is only one of many examples of Kane's dark wit. Her text, which looks like a modernistic poem and has no characters, no stage directions and no easy dialogues, presents a challenge to directors and performers: who says what line and why? I've seen it performed by three actors, nine women and — this time — by one.
In this stark staging, Romanian actor Anamaria Marinca performs the play as a solo show, directed and designed by Frenchman Christian Benedetti, and this has the effect both of concentrating the intensity of the work while also depriving it of the polyphonic quality that several voices can lend to it. In fact, those productions which use an exclusively female voice do tend to emphasise, however unconsciously, the play's autobiographical aspects. In fact, Marinca looks a bit like Kane, although her foreign accent is miles away from Kane's punky Cockney, and this production has a strong Continental feel.
It starts with a silence, a long silence. In response to any shuffle, or movement in the audience, Marinca stares down the offender and imposes, like Kane herself does in the text, her presence. This is not a mutual discussion of mental sickness — it's a naked statement, and the audience must be wrestled into submission. Here, we are witnesses, not participants. Dressed in trousers and a singlet, the androgenous Marinca stands still and doesn't move much during the whole 75-minute show. From her lips, Kane's declamatory passages and brute declarations work much better than the dialogues between patient and doctor, some of which lack clarity.
At times, when Marinca raises a hand, she seems to be part of a political tide, a youth movement that claims absolute moral integrity. At other times, her utter vulnerability make her seem emotionally naked, a patient stripped bare by the system. There's an amazing moment when she distorts her lower jaw into a fearsome silent scream, part Edvard Munch, part Mother Courage. All in all, it is a courageous performance which deliberately underplays the text's grim humour and emphasizes its unrelenting, passionate honesty.
As well as being an indictment of the poverty of treatment for mental illness, and one of the strongest passages is about the effects of drug solutions for depression, this is a play about a soul seeking spiritual light. Kane's text has more than a passing whiff of religious feeling. Despite the uncompromisingly arid tone of Marinca's delivery, the overall impression is of a young woman's struggle with her inner demons. It's uncomfortable, sometimes adolescent, but always full of theatrical intelligence — a defiant account of rage and loss.
© Aleks Sierz