Travels with My Aunt, Poole Lighthouse
Saturday 30th April 2016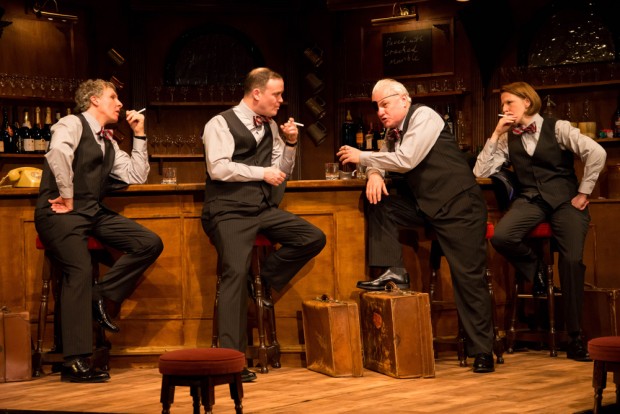 Is is possible to journey without arriving anywhere? Well, that's exactly the feeling conveyed by this good-natured, but not very exciting revival of Travels with My Aunt, a stage adaptation of the 1969 Graham Greene comic novel by Giles Havergal, dating from 1989 when he was joint artistic director of the Glasgow Citizens. As usual, four actors perform a large cast of characters in this touring production, by Creative Cow theatre company and marking mark the 25th anniversary of Greene's death.
Henry Pulling is a fiftysomething, unprepossessing, retired suburban bank manager who is more interested in tending his dahlias than in any human relations. When he meets his septuagenarian Aunt Augusta for the first time in 50 years years at his mother's funeral, the two strike up an unlikely relationship. For while Henry is conventional and repressed, Augusta is eccentric and free-thinking. And inclined to criminal activities. After being introduced to her lover, Wordsworth, who comes from Sierra Leone, Henry finds himself a bewildered companion to Augusta, as she takes him on her travels, first across Europe and then beyond.
Like an 18th-century picaresque novel, the story is full of colourful incidents and vivid characters. Augusta and Henry journey from Paris to Istanbul on the Orient Express, and then to South America. As well as Wordsworth, we are also introduced to Mr Visconti, a former lover of Augusta's, and a man with an unsavoury past as a Nazi sympathiser and art thief. Despite the morally questionable actions of Mr Visconti, we are not invited to think very deeply about their actions. This is a mildly amusing story whose main purpose is not only to make us laugh, but to laugh at ourselves — everything that happens is oh, so very English.
The image of England conveyed by the play is that of country split between tradition and modernity. It's the late 1960s so it's hardly surprising that Henry and Augusta meet pot-smoking hippies, CIA operatives and corrupt Paraguayan police. Greene's trick, of course, is to reverse stereotypes by making the older aunt the liberated one (modernity) and the younger man the repressed and timid one (tradition). In this tension between emotional reticence and free-spirited living, Henry learns a bit more about what it means to be a human being — and Augusta gets reconnected to some unfinished family business.
With its genial jokes, and general atmosphere of warm humour, Travels with My Aunt is the kind of entertainment that flatters its audience. It really is how we like to see ourselves: as humorous, tolerant and essentially broadminded. So bring on the police raids, the festivals and the easily bribed officials. By the end, however, there is a slightly darker streak to this tale: as well as being a mild celebration of sexless repression, it also traditionally English in its vaguely colonialist attitudes and implied paedophilia (Henry is attracted to an underage girl).
Still, this version by Amanda Knott trundles merrily along on its Crown and Anchor pub set, with all four actors taking turns to play both Henry (often with a bowler hat) and Augusta (always with pink glasses). Richard Earl is a querulous, high-pitched aunt and also plays the snake-like Visconti; David Partridge is the most confident of the Henrys and also an imposing Wordsworth; Jack Hulland is a quick-witted American and Katherine Senior (good to see a woman in the cast) a funny teenage girl. But however smoothly inventive and warm-hearted, this production travels a lot but never gets very far away from the past in which this story is trapped.
© Aleks Sierz