The Merchant of Venice, Almeida Theatre
Wednesday 7th January 2015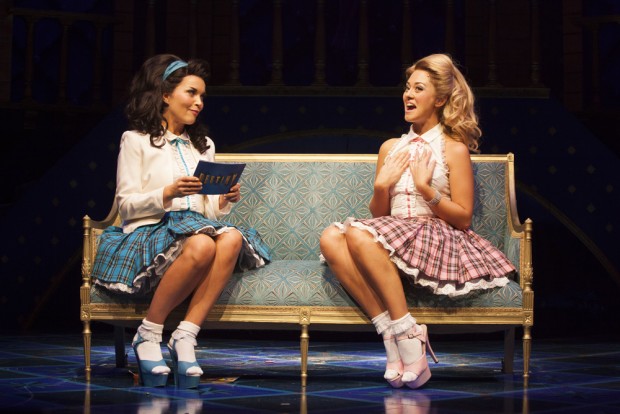 It's a quiet time of the year so I am playing catch up. First on my long list of must-sees is Rupert Goold's version of The Merchant of Venice, which has been co-produced with the Royal Shakespeare Company, and was first seen in Stratford-upon-Avon in 2011. Now at the swanky Almeida in north London, where Goold is artistic director, the play is set in a Las Vegas casino, brightly rendered by designer Tom Scutt. Since I love the American accents in the Hollywood film Clueless and the casino years of Elvis Presley, this is definitely a show I knew I would enjoy. But does its modern setting make sense?
Like with all transpositions, there are loses as well as gains. Although a Las Vegas casino makes perfect sense as a metaphor for contemporary capitalism — and thus gives force to the play's theme of money making and buccaneer trading — the story's anti-semitism is less convincing in a contemporary setting. Is today's American really so full of anti-Jewish rhetoric? I doubt it. Here Shylock, played with a dangerously itinerant immigrant Jewish accent by Ian McDiarmid, is a rather cheery and petulant trader whose intransigent insistence on his pound of flesh is coloured by his sense of exclusion from the merry boys' club atmosphere of the Christian men, whose homoerotic bonds effectively exclude him. This strong gay subtext does add a new dimension to the play.
McDiarmid matures during the course of the performance from frustrated unhappiness at his abandonment by his daughter Jessica to a real tragic humiliation as the court case goes against him. His end has a tingle of really gruesome bullying — and is one of the few moments when the production achieves a deep emotional resonance. But the real star of Goold's version is Portia, played by Susannah Fielding with real wit and comic timing as a character out of Clueless. The casket scenes, when suitors come to woo her, have been reimagined as a television game show called Destiny, with Portia and her maid Nerisa (Emily Plumtree) as hostesses. The contestants, Princes of Morocco and Aragon, are wonderful caricatures and Portia's Southern Belle accent keeps the laughs flowing.
In this garish casino, with its starry glittering walls, blackjack tables and golden palm trees, Portia's lover Bassanio (Tom Weston-Jones) is more emotionally involved with the ill-fated merchant Antonio (Scott Handy) than he is with Portia. The final scenes with the ring trick not only confirm this, but give a good account of female cleverness. I don't think you can describe the bard as a feminist, but he certainly gave his female characters not only depth but also a real sense of sly fun.
One highpoint of the evening is the appearance of Shylock's servant Lancelot Gobbo as an Elvis impersonator — and the King's music is a welcome addition to the play. Minor episodes, such as Lorenzo and Jessica running away in Batman and Robin costumes, also add to the pleasures of a fast-moving and well-organised production whose court scene features Antonio dressed in an American penitentiary-style orange-coloured jumpsuit facing execution with both terror and bravery. I often feel that British directors are too timid when it comes to Shakespeare, and have too much respect for the text, yet this production, despite all of its excesses, is a thrilling reminder that it is possible to make the bard both joyous and emotional. I left the theatre on a big high.
© Aleks Sierz