Ghost Stories, Duke of York's Theatre
Wednesday 14th July 2010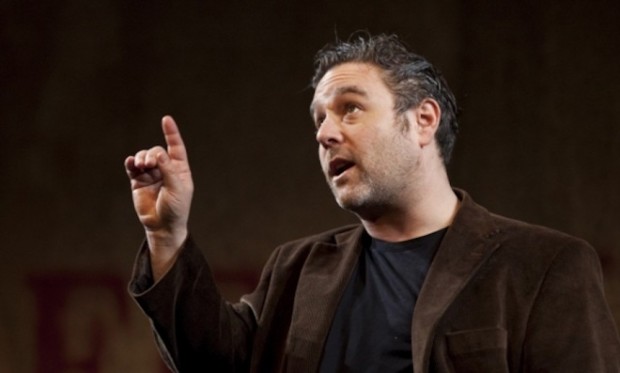 We are often told that we have nothing to fear but fear itself. Perhaps. But it is also true that human beings crave fictional fears, that tingle of anxiety and that shock of the unexpected that causes you to gasp, or scream. As polymath Philip Ridley once said, the reason that fairground ghost trains are so popular is that there are no ghosts. Or are there?
This transfer of Ghost Stories, which was at the Lyric Hammersmith earlier this year, gives us a second chance to look at this phenomenon. Written by Jeremy Dyson (League of Gentlemen) and Andy Nyman (Darren Brown), the show starts in the foyer, with strands of police crime-scene tape, and you enter the darkened auditorium to the loud sound of howling winds, where the flickering light bulbs allow you to read barely a word of the programme. Great design by Nick Manning. Yes, this is atmospheric theatre — and the first night audience was simply begging to be scared.
They were not disappointed. But the show starts in the bright light of a public lecture, with Professor Phillip Goodman (played by co-author Nyman), a parapsychology expert delivering a keynote address about the history of ghosts. At first, he seems cheerful, sceptical and engaging as a public speaker. After all, a show of hands confirms that while many in the audience believe in spirits, very few have actually encountered them.
So yes, we want to believe in ghosts, because it suggests that there might be an afterlife, even though most of us don't have any experience of the other side, or of the spirit world. Although the audience responses are a refreshing testament to the hard-headed rationality of the British people, we know that this lecture will be followed by more troubling fare: and pretty soon the Professor is telling the first of three spine-chilling stories, based of course on his own interviews with those who survived them.
By now, we are ready for anything and the show does not let us down. The first story is a creepy tale of an old nightwatchman who is assailed by a young girl, the second about a young man whose car breaks down and he has to cope with a hellish demon, and the third about a rich City trader whose child's bedroom harbours a poltergeist. In each of these, the stage shocks were effectively delivered — and the audience quaked, shuddered and screamed. All the tales seem to have occurred at about 3.45am, and such night terrors are a powerful and familiar human dread.
But while the Professor manages to explain all of the oddities as manifestations of psychological anxiety, they remain strong images of discomfort and horror. In common with other audience members, I have been asked not to reveal the genuinely disturbing ending of the play, but I will say that it manages to be both juvenile and fearsome. When you leave the theatre, after some 80 minutes in the deep dark, the fresh breeze on your face is not really enough to dispel the lingering feelings of terror that you have witnessed.
Yet such is the amount of human suffering in the world that the sense of fear that the show engenders serves to remind us all of how fragile our happiness might be. Somehow it tunes in to our darkest and deepest feelings. Directed by the authors, with help from the Lyric Hammersmith's Sean Holmes, this is an evening of coups de theatre and sudden shocks. Really good fun. Nyman plays the Professor with an appealing confidence, and there's excellent support from David Cardy, Ryan Cage and Nicholas Burns as the spooked, and spooky, interviewees. It's a creep-fest that is both thoroughly enjoyable and raises serious questions about why we belief in ghosts. Or not.
© Aleks Sierz