Booby's Bay, Finborough Theatre
Friday 2nd February 2018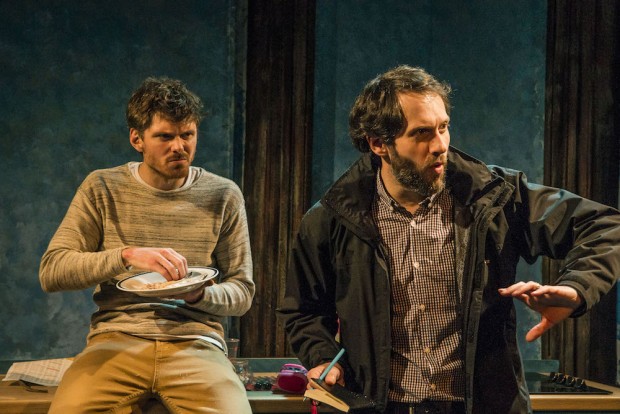 Huck Trebillcock has his head in the clouds. He's a former fisherman, now an unemployed rebel who yearns to be a local hero. He's a freak who has big plans. Because he meditates, people call him a weirdo. Fed up with the fact that a large amount of properties in his hometown near Booby's Bay, a cove in Cornwall, are second homes that lie empty for most of the winter months, he has decided to squat one — and defy its owner. Instinctively lefty, he has read Germaine Greer and is proud of his feminist credentials. But he most wants to make a splash: he has decided to publicize his protest by using non-violent direct action. Yes, Huck has his head in the clouds (so says his mum, Liz).
Henry Darke's debut play, Booby's Bay, begins with Huck telling his mum that he intends to squat Dolphin Mews, the property that she, the cleaner but also manager of holiday lets, has has allowed him to stay in over the winter months. She tells him to get a grip, and to stop acting silly, and let her clean the place — she wants to do some serious partying by the evening. It's good advice and it's echoed by Jeanie, Huck's on-off girlfriend, who arrives with an ultimatum: she's pregnant and wants Huck to get a proper job and settle down. If not, she will move in with Daz, Huck's schoolfriend and rival, who is a professional surfer and at least has some prospects.
But Huck has other ideas. He calls Ivan, a reporter on the North Coast Herald, and offers to tell him the story of his squatting protest. Ivan is a London hipster who has only recently moved down to Cornwall so he is an ideal listener for Huck and Daz's different views on life. Huck is still angry, still grieving for his older brother, Jago, who died in a fishing accident which Huck still feels responsible for. While Huck is now building a "barricade of hope" from driftwood to protect his squat, Daz, who is a boaster, plans to win the regional surfing contest. But will Huck allow him to take Jeanie?
Huck and Daz portray opposite images of what a local hero might look like in Brexit Britain: Huck is sensitive to ecological issues, makes ends meet by turning strands of dried seaweed into painted snakes, and is concerned with social justice. He wants to lead a rebellion against all the city types whose second homes have turned this lovely part of England into a rural desert, with houses too expensive for locals to afford. But he's also a pisshead on the skids. Daz is a contemporary sportsman, whose idea of fair play involves avoiding blood tests for controlled substances. And with reason. He's a bit of a bigot, and has more than a dash of racist attitudes. But he also has the ambition to win, to succeed, to improve. For Queen and county.
Caught in between this male rivalry are Jeanie, who wants what's best for her baby, and Liz, who at 50 is still 20 at heart. Over 110 minutes of running time, Ivan — always ready to write up a news story — watches the clash of wills, as a minor tragedy unfolds. Darke's storytelling is effective, although it is hard to like either Huck or Daz. As a report from a part of England that is often ignored in metropolitan circles, Booby's Bay is informative and comes in a language that is deep in accent and barnacled with vivid images. While it is good to see issues such as the rural housing crisis and unemployment get an airing, the politics of the piece are highly individualistic and highly idealistic. At the end of the play, there is even an idealist fantasy.
Chris White's rather ragged production is designed by Paul Burgess, and covers the scene changes with music-making and songs that evoke ancient Cornish legends and the lore of the sea, something now mainly forgotten by metropolitan mindsets. In an atmosphere which has a salty tang of frying mackerel and a seagull soundtrack, the cast have a bruising integrity, with Oliver Bennet's passionate Huck squaring up to Bradley Taylor's hefty Daz, while Florence Roberts (Jeanie), Esther Coles (Liz) and Joseph Chance (Ivan) give good support. There's a lovely moment when Coles plays a cocktail-gulping MC at a local event. Although the plot has moments of surreal silliness (watch out for the shark fin episode), there's a strong current of emotional truth running through the storms. Perhaps less comic than it should be, and certainly not problem-free, this is definitely a strong debut from a very promising playwright.
© Aleks Sierz